Business Line Vijayawada Advertisement Booking Online at Lowest Rates:
Select Your Ad Format :
Economical, Simple Text. Charges per line/ word. Can be enhanced with Tick, Border & Bold
More Visible & Expensive. Include image, colour,font variations. Rate is charged on per sq.cm basis.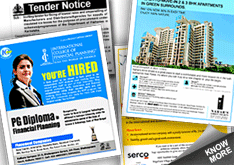 Most Visible & Expensive(Rs.20,000+).Used for premium positions & Sizes (Front Page,Full Page etc.
In order to get the ad rates for your Business Ad, please visit the Business Line Ad Rates page for Business ads and select your edition as Coimbatore. You can also browse through the various discount packages displayed below the ad rates section and proceed to the next level of completing and confi...
Name Change Announcement Ads ar meant for legal reasons rather than reaching out to a huge mass. Hence any newspaper with a medium or low circulation as preferred by you and low cost can be used for such announcements. To select from the range of newspapers, best suited to your requirements...
We would like to inform you that in order to view the ad rates for a service ad in Business Line kindly refer to the following link : http://businessline.releasemyad.com/rates/services .Here, you can view the rates for booking the ad as per location.After viewing the ad rates select t...
Business Line Vijayawada Classified booking Center
ReleaseMyAd Media Pvt.Ltd.
Gandhi Nagar,, Vijayawada, Andhra Pradesh, 520003
Book an Ad
Additional Information
About releaseMyAd
Book an Ad
Vijayawada is a metropolis in Andhra Pradesh. This second largest Vijayawada of the state houses many small and medium scale industries. The competition amongst them is huge. These SMB advertisers come to releaseMyAd for efficient advertising solutions within their limited budgets.
We suggest classifieds in newspapers for low-cost potent advertising. Our innovative ad booking portal has made booking classifieds very easy. Now, advertisers in Vijayawada just need to go through 3 steps before their ads are booked. The steps are:
1. Select Ad Type and Ad Category:
To book ads on our website first select ad type (text/display classifieds). Then choose ad category (property, tenders, business etc.)
2. Compose Ad:
Then, compose ad. For advertisement ideas view our sample ads on the website. You can also upload your own display classifieds or edit a layout.
3. Select Dates & Make Payments:
To finish your ad booking process select advertisement release dates and make payments. Use our many online and offline payment modes to pay.
Additional Information
Why choose releaseMyAd for booking Business Line Newspaper classifieds in Agra?
The Business Capital of Andhra Pradesh is Vijayawada. It has a thriving economy supported by agro-based industries, textiles, automobiles, hardware, etc. Tourism and transportation industry too brings in the 'moolah' here. Cost-effective advertising becomes mandatory for businesses in Vijayawada to rout the competition. releaseMyAd is one of the top ad agencies in Vijayawada. We endorse the use of classified ads in leading newspapers of Vijayawada for this. Booking classifieds with us serves the following advantages:
1. Get expert assistance in ad booking from an ad agency fully accredited by INS.
2. Easy 3 step ad booking with guaranteed lowest ad rates for Vijayawada.
3. Over 1 lakh customers served annually with excellent customer support.
About releaseMyAd
releaseMyAd is India's simplest classified booking service! Through our service you can book classified Ads for all leading Indian Newspapers – at no extra charges!
We are fully accredited by the Indian Newspaper Society (I.N.S.) - the primary governing body for all media publications. Furthermore, we have exclusive tie-ups with newspapers that enable you to release ads at the same cost as the newspaper in addition to enjoying special discounts!
You can book your Newspaper Ad instantly for any category such as Matrimonial, Property, Recruitment, Automobile, Travel etc. We accept both online and offline payments for advertisement bookings. Online payment options include Credit/Debit Cards & Net Banking (All Indian Banks), and offline options include Demand Drafts, Cheques and cash payments.
Contact us at:
questions@releasemyad.com
+91 33 4031 1111 (24 hours, Monday-Sunday, Standard STD/Local charges apply)